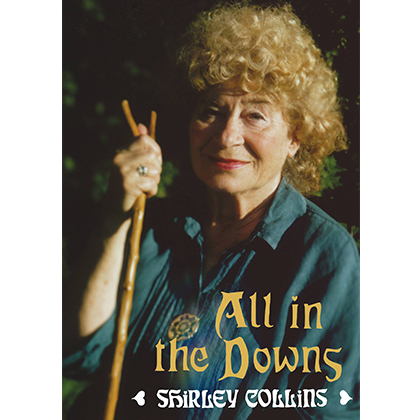 All In The Downs
| Format | Price | Buy |
| --- | --- | --- |
| All In The Downs Paperback | £14.99 | |
| All In The Downs Hardback Special Edition | £25.00 | |
Description
All In The Downs
Reflections on Life, Landscape and Song
Shirley Collins
Introduction by Stewart Lee

Limited Hardback / Standard Paperback
196mm x 132mm
256pp, 40 images in colour & B/W
£25 / £15.99
ISBN: 9781907222412

The Special Edition Hardback, available exclusively through Strange Attractor Press, will be limited to 500 copies and include a signed insert by Shirley Collins.

An unlimited Standard Paperback edition will also be available via our distributor, MIT Press, and will be purchasable at all good bookshops.


"Spirited… elegant… highly enjoyable… Shirley Collins's descriptions of her beloved Sussex, along with the richness of her culture, make an elegant case for reclaiming a variant of English history."
The Guardian

"Luminous… All in the Downs traces the rhythm of a life with the old songs and music. Deeply moving… [it] allows us to read Collins in the landscape and the landscape in her."
The Wire

"All In The Downs dissolves time, darting between distant memory and history and the events of her recent renaissance, dissolving the years between incidents, bringing ghosts, both metaphorical and literal, striding over the downs into life before us."
From the introduction by Stewart Lee

A legendary singer, folklorist, and music historian, Shirley Collins has been an integral part of the folk-music revival for more than sixty years. In her new memoir, All in the Downs, Collins tells the story of that lifelong relationship with English folksong—a dedication to artistic integrity that has guided her through the triumphs and tragedies of her life.

All in the Downs combines elements of memoir—from her working-class origins in wartime Hastings to the bright lights of the 1950s folk revival in London—alongside reflections on the role traditional music and the English landscape have played in shaping her vision. From formative field recordings made with Alan Lomax in the United States to the "crowning glories" recorded with her sister Dolly on the Sussex Downs, she writes of the obstacles that led to her withdrawal from the spotlight and the redemption of a new artistic flourishing that continues today with her unexpected return to recording in 2016.

Through it all, Shirley Collins has been guided and supported by three vital and inseparable loves: traditional English song, the people and landscape of her native Sussex, and an unwavering sense of artistic integrity. All in the Downs pays tribute to these passions, and in doing so, illustrates a way of life as old as England, that has all but vanished from this land.

Generously illustrated with rare archival material.

About the Author: Shirley Collins MBE is a renowned folk singer who has recorded over 20 albums, and the author of America Over the Water (2004). She is the president of the English Folk Dance and Song Society in London. Her critically lauded album Lodestar, released in 2016, marked a triumphant return to performance after over thirty years. Shirley was recently the subject of a feature documentary film, The Ballad of Shirley Collins.