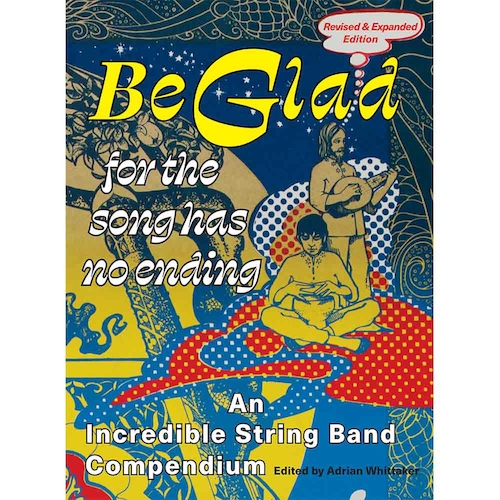 Be Glad For The Song Has No Ending
| Format | Price | Buy |
| --- | --- | --- |
| Be Glad Hardback Special Edition | £40.00 | |
| Be Glad Paperback Edition | £25.00 | |
Description
Be Glad For The Song Has No Ending
Be Glad For The Song Has No Ending
An Incredible String Band Compendium
Revised & Expanded Edition
Edited By Adrian Whittaker

704pp, HB/ PB, 220+ b/w illus,
8pp of colour
ISBN: 978-1-913689-50-6
£40 /£25

Our collectors' hardback edition is limited to 350 copies. It features a ribbon, debossed boards and a variant dust jacket. It also comes with a chapbook containing all of Raymond Greenoaken and Allan Frewin's ISB comix, with a card signed by the artist.

A wide-ranging collection of interviews, anecdotes, essays, and ephemera concerning one of the most enigmatic bands to emerge from the 1960s psych-folk scene.

First published in 2003 and long out of print, Be Glad For The Song Has No Ending: An Incredible String Band Compendium is the definitive book about the ISB. Containing a wealth of interviews, essays, and ephemera from the band's brief but tangled history, this new revised and expanded edition includes two new pieces by ISB member Rose Simpson on Witchseason Productions' idiosyncratic offices and on recording with the ISB in the Sound Techniques studio, as well as interviews with Neil Tennant of Pet Shop Boys, folk musician Alasdair Roberts, and Ossian Brown of Coil and Cyclobe.

Contributors include Mike Heron, Robin Williamson, Rowan Williams, ISB manager and producer Joe Boyd, Andy Roberts, Billy Connolly, and Raymond Greenoaken.

About the editor

Adrian Whittaker has written for The Wire, Shindig!, and Record Collector. In 2003 he edited Be Glad: An Incredible String Band Compendium. In 2019 he published Fitting Pieces To The Jigsaw, the definitive book on Irish psych-folk band Dr. Strangely Strange. He has also written and presented a number of music history documentaries for Resonance FM.

Reviews
"Encyclopaedic in scope, passionate in tone, this book is a minotaur's labyrinth of information about one of the most remarkable groups in 20th century music. Be glad, for everything you need to know is here." (Rob Young, The Wire)