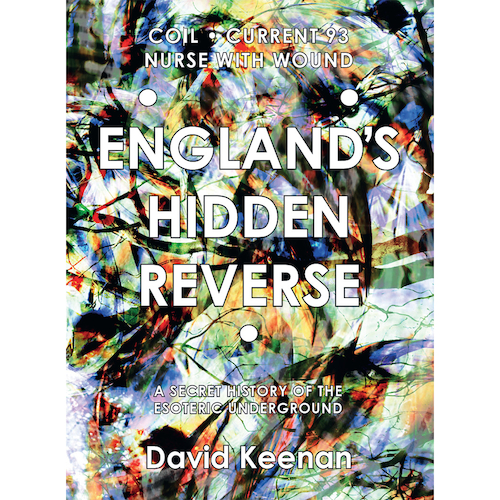 England's Hidden Reverse New Edition
| Format | Price | Buy |
| --- | --- | --- |
| England's Hidden Reverse New Edition | £25.00 | |
Sorry, England's Hidden Reverse New Edition is out of stock.
Description
England's Hidden Reverse New Edition
England's Hidden Reverse New Edition
A Secret History of the Esoteric Underground
David Keenan

Newly expanded black and white paperback edition, featuring 60 pages of extra interviews and reflections, which originally appeared in Furfur, a collection of bonus material.

Paperback
528 pages
216mm x 156mm
240 images in bw.
ISBN: 9781913689452

PLEASE NOTE: We can offer the EHR Colour Supplement with copies of the book while stocks last, but we have no more signed bookplates.

Announcing a newly expanded edition of David Keenan's seminal secret history of the UK's esoteric underground, England's Hidden Reverse, which now includes a selection of interviews and reflections that initially appeared in the bonus zine, Furfur, which came with the special edition published in 2016.

Based on hundreds of hours of interviews with members of Coil, Nurse With Wound and Current 93 as well as contemporaries, friends and associates, EHR illuminates a shadowy English underground scene whose work accented peculiarities of Englishness through the links and affinities they forged with earlier generations of the island's marginals and outsiders, such as playwright Joe Orton, writers like death decadent Eric, Count Stenbock, ecstatic mystic novelist Arthur Machen and occult figures like Austin Osman Spare and Aleister Crowley.


While functioning as an obsessively researched biography of the three interrelated groups EHR also works to track the trajectory of their influences, explicating a reverse current that runs counter to the mainstream. Written over a period of six years and first published in 2003, the book flits between John Balance and Peter 'Sleazy' Christopherson of Coil's original Threshold House in Chiswick and the old boys' school they later moved to in Weston-super-Mare to Steven Stapleton of Nurse With Wound's goat farm and visionary art environment in Cooloorta in Southern Ireland to the roof of a house in Muswell Hill where David Tibet of Current 93 receives a vision of Noddy crucified in the sky. From there it moves further back and faster; to eye witness accounts of early Whitehouse performances; to the formation of Throbbing Gristle and the birth of industrial music; to the last moments of the visionary painter Charles Sims; to Angus MacLise, ex-of the Velvet Underground, casting his poem Year as a work of elementary magic; to Shirley Collins, AE Housman and Denton Welch's visions of England in eternity.