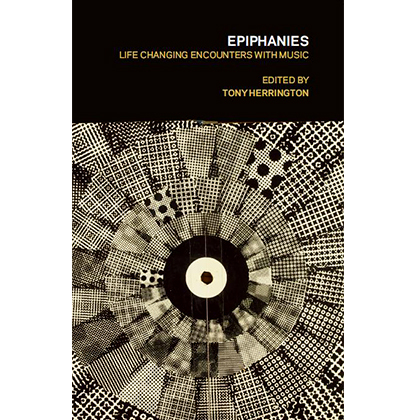 Epiphanies
| Format | Price | Buy |
| --- | --- | --- |
| Epiphanies | £11.99 | |
Sorry, Epiphanies is out of stock.
Description
Epiphanies
Edited by Tony Herrington
PB 192pp
210mm x 135mm,
ISBN: 978-1-907222-21-4

Epiphanies: Life-changing Encounters With Music is a new anthology of essays drawn from The Wire's monthly Epiphanies column, which has been running in the magazine since issue 167 (January 1998). The book includes more than 50 essays in which a wide range of musicians, authors and critics detail their personal experiences of music's transformative powers.

Contributors include Little Annie, Jerry Dammers, Geeta Dayal, Paul Gilroy, Michael Gira, Kenneth Goldsmith, Jonny Greenwood, David Grubbs, Adam Harper, Stewart Lee, Lydia Lunch, Momus, Ian Penman, Genesis Breyer P-Orridge, Nina Power, Simon Reynolds, Sukhdev Sandhu, Robert Wyatt and more. Subjects covered range from Sun Ra to Kate Bush; Fugazi to Ligeti; South Africa's World Cup vuvuzelas to Hungarian prog rock; noisy street protests to the deathly silence inside an anechoic chamber.

The book has been edited by The Wire's Editor-in-Chief & Publisher Tony Herrington and designed by the magazine's Art Director Ben Weaver, with illustrations by Sculpture's Reuben Sutherland.