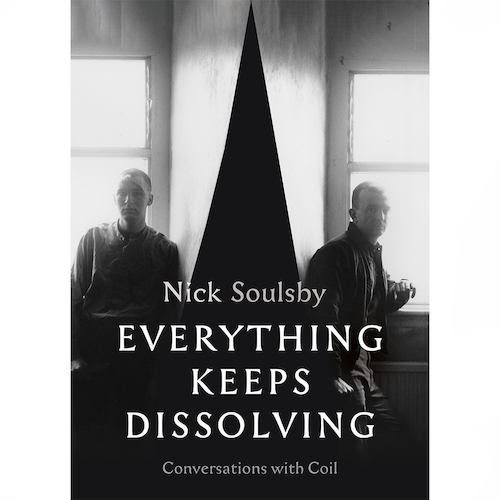 Everything Keeps Dissolving: Conversations With Coil
| Format | Price | Buy |
| --- | --- | --- |
| Everything Keeps Dissolving Hardback Special Edition | £45.00 | |
| Everything Keeps Dissolving Paperback Edition | £25.00 | |
Description
Everything Keeps Dissolving: Conversations With Coil
Everything Keeps Dissolving
Conversations With Coil

Edited by Nick Soulsby

ISBN: 9781913689766
576pp approx
148mm x 210mm
40 bw images

PB £25 / HB: £45

- Special hardback edition featuring a high quality hardback signed by the editor with postcard set of rare drawings by John Balance, and exclusive chapbook Having Fun with Gods: The Quotable Coil
(500 copies only)

In this heavily illustrated compendium, the legendary British experimental band Coil tell their story in the present tense, as events unfold across their twenty-year history.

Between 1983 and 2004 the legendary British experimental band Coil established itself as a shape-shifting doyen of esoteric music whose influence has grown spectacularly in the years since its untimely end. With music that could be dark, queer, and difficult, but often retained a warped pop sensibility, Coil's albums were multifaceted repositories of esoteric knowledge, lysergic wisdom and acerbic humor. In Everything Keeps Dissolving, core members John Balance and Peter Christopherson tell Coil's story in the present tense, and from their personal perspectives.

Accompanied by their various collaborators, Coil describe the fertile eruption of ideas, inspirations, and stray tangents that informed their lyrical and musical visions—as well as those dead paths and castoff concepts that didn't take root. Not only a worm's eye view of Coil, these interviews provide insight into the late twentieth century's evolving British cultural underground as channeled through two of its most astutely mercurial minds.

A milestone in Coil's evolving posthumous history, Everything Keeps Dissolving contains a number of previously unseen drawings, photographs and other images by, and of, the band.

About the editor:

Nick Soulsby is the author of Everything Keeps Dissolving: Conversations With Coil (Winter 2022), Lydia Lunch: The War Is Never Over (2019), Swans: Sacrifice And Transcendence (2018), Thurston Moore: We Sing A New Language (2017), Cobain On Cobain: Interviews & Encounters (2016), I Found My Friends: The Oral History Of Nirvana (2015), and Dark Slivers: Seeing Nirvana In The Shards Of Incesticide (2012). His words feature in an upcoming book on artist Marc Hurtado and The Abrahadabra Letters by John Balance/Anthony Blokdijk. In 2014 he curated No Seattle: Forgotten Sounds Of The North West Grunge Era with Soul Jazz Records, he wrote the liner notes for the re-release of We Are Urusei Yatsura (2022), and also the oral history of Fire Ants for the reissue of their 1993 EP Stripped.