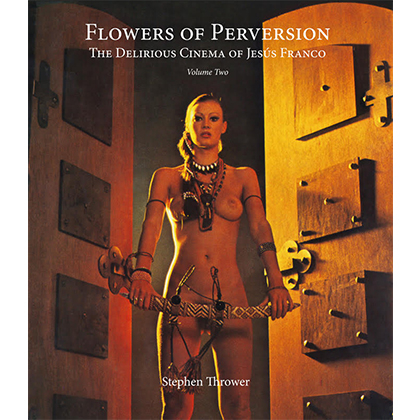 Flowers of Perversion
| Format | Price | Buy |
| --- | --- | --- |
| Flowers of Perversion Hardback Special Edition + Set of 6 postcards + The Sinister Case of Dr. Franco | £65.00 | |
| Flowers of Perversion Standard Hardback Edition | £45.00 | |
Description
Flowers of Perversion
Flowers of Perversion
The Delirious Cinema of Jesús Franco, Volume Two
By Stephen Thrower
HB 512pp
240mm x 269mm
£45.00 / £65.00
520 images, full colour throughout

ISBN: 9781907222603

Available Mid November in Standard and Collectors' Editions.

The Collectors' Edition of 500 copies is signed and numbered by Stephen Thrower and features specially designed boards, a different dust jacket image, a set of colour postcards and...

The Sinister Case of Dr. Franco
A 100 page, hardbound book, featuring a facsimile of items left behind at Hotel Quetzal in Southern France during the shooting of Mandinga in 1975. Jess and Lina Romay left the hotel in a hurry abandoning a suitcase containing numerous script treatments, story outlines and poster ideas, all of which are reproduced, annotated and made public here for the first time. This is a unique opportunity to own a piece of cinematic history and will not be repeated.

This one-off publication presents a detailed cross-section of Jess Franco's seething imagination and hectic filming schedule at the crest of his career.