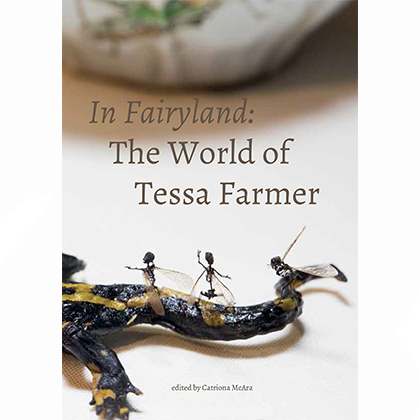 In Fairyland: The World of Tessa Farmer
| Format | Price | Buy |
| --- | --- | --- |
| In Fairyland: The World of Tessa Farmer Paperback | £14.99 | |
| In Fairyland: The World of Tessa Farmer Hardback | £20.00 | |
Description
In Fairyland: The World of Tessa Farmer
In Fairyland
ed. Catriona McAra
128pp + 16pp colour illustrations
Available in both hardback and paperback editions

For almost two decades now, Tessa Farmer has been evolving a new species of fairy. They represent the point at which science tilts into fantasy – as the sleep of reason produces monsters. In Fairyland is the first substantial scholarly volume devoted to Farmer's work. Here, leading thinkers in the fields of animal art, natural history and gothic studies assemble to investigate the significance of Farmer and her fairies, covering aspects from their relationship to fairy traditions in folklore and art, to entomological precedents for the malevolent behaviours of her creations.

Edited by fantasy curator Catriona McAra, In Fairyland consists of eight carefully crafted chapters by Giovanni Aloi, Gail-Nina Anderson, Gavin Broad, Brian Catling, Jeremy Harte, Petra Lange-Berndt, and John Sears.