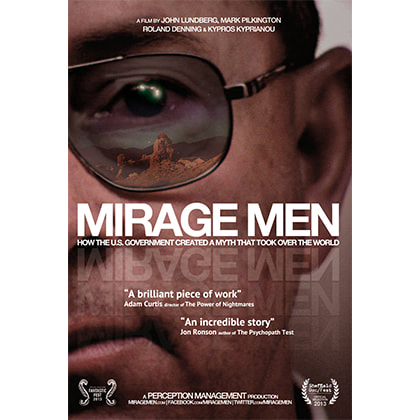 Mirage Men - Extended 2 Disc Edition DVD
| Format | Price | Buy |
| --- | --- | --- |
| Mirage Men - Extended 2 Disc Edition | £10.00 | |
Description
Mirage Men - Extended 2 Disc Edition DVD
By John Lundberg, Mark Pilkington,
Roland Denning, Kypros Kyprianou
2x DVD, 150mins, Widescreen
PAL, All Regions
£10

UFOs: weapons of mass deception… For over 60 years teams within the US Air Force and Intelligence services exploited and manipulated beliefs about UFOs and ET visitations as part of their counterintelligence programmes. In doing so they spawned a mythology so powerful that it captivated and warped many brilliant minds, including several of their own.

Now, for the first time, some of those behind these operations, and their victims, speak out, revealing a true story that is part Manchurian Candidate and part Close Encounters of the Third Kind.

This is a special, extended 2-disc version including the full length feature, 8-page booklet with essays by the filmmakers on 'The Genesis of Mirage Men', 'Tricksters, Saucers and Cyber Magicians', 'The Enigma of Richard Doty' and 'The Unreliable Narrator', and over an hour of previously unseen additional material, comprising of 22 short films giving background history, extra interviews and an exclusive Urthona music video.
Reviews
A brilliant piece of work – Adam Curtis
An incredible story – Jon Ronson
A real head trip – Ain't it Cool News
Wonderfully weird and provocative – Boing Boing