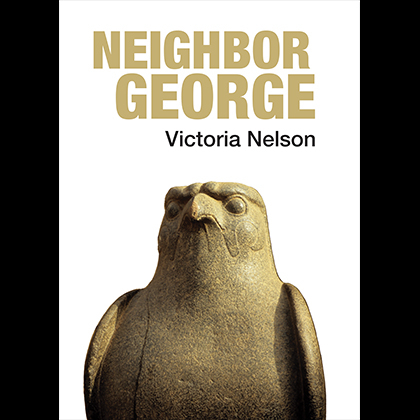 Neighbor George
| Format | Price | Buy |
| --- | --- | --- |
| Neighbor George Hardback | £25.00 | |
| Neighbor George Paperback | £14.99 | |
Description
Neighbor George
Neighbor George
By Victoria Nelson

PB / HB
ISBN: 9781913689308
312pp
124mm x 191mm
£14.99 / £25.00

"A compelling and wittily written tale where omens lie low in the elegant prose before it gathers monstrous menace and then raises us towards mystery and awe." Ramsey Campbell

Summer, 1979: A lonely young woman housesitting in an isolated bohemian enclave finds troubling reminders of a past family tragedy surfacing in odd and unsettling ways. When a mysterious man moves in next door, Dovey hopes for a romance like the ones in the novels she secretly devours. But a dark truth, hidden since childhood, erupts shockingly in a violent otherworldly intrusion, catapulting her into a desperate struggle for her life and sanity.

Set in a haunted northern California landscape populated by poets, New Agers, stoners, and burnouts, Neighbor George is a deeply atmospheric story of psychological horror enacted in the space where the natural and supernatural collide, a mythic territory of possession shared by its comic companion tale, Bolinas Venus, also included in this volume.

About the author:
Victoria Nelson is the author of two acclaimed cultural histories of the supernatural, The Secret Life of Puppets and Gothicka, two collections of short stories, and a memoir. She edited the Robert Aickman collection Compulsory Games for New York Review Books.
Reviews
"If Stephen King and Alfred Hitchcock had collaborated to write a novel that would scare you senseless, they might have come up with Victoria Nelson's Neighbor George. Lulled for the first few pages by Nelson's brilliant description of Bolinas, a laid-back, eccentric small town in West Marin, California, you may soon find yourself double locking your doors and searching frantically for a nightlight as Nelson piles on twist after unexpected twist, horror after unexpected horror in this deadly dance of predator and prey."
Mary Mackey, author of A Grand Passion
"In this vivid page-turning gothic novel centered around the wry portrait of a decaying California left-coast hamlet on the fog-bound Pacific, a thirst-for-life quest turns ominously into a journey into self-abolishment and murder as Victoria Nelson exposes old lust meeting young need and New Age wacky mantras colliding with hungry ghosts seeking souls in a bohemian utopia haunted by restless spirits and death drives. Light-drenched and wit filled, brilliantly composed, Neighbor George will join canonical California novels like Maxine Hong Kingston's Tripmaster Monkey, Denis Johnson's Almost Dead, Thomas Pynchon's Vineland, and Louis B. Jones's California's Over."
Rob Sean Wilson, author of Waking in Seoul, Be Always Converting, Be Always Converted, and Beat Attitudes.