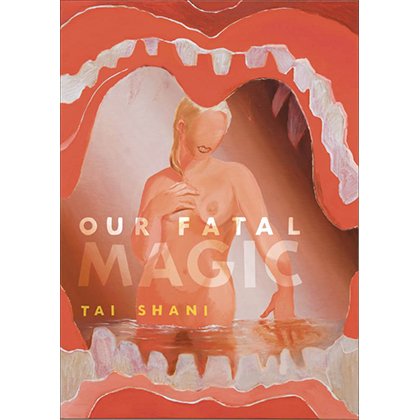 Our Fatal Magic
| Format | Price | Buy |
| --- | --- | --- |
| Our Fatal Magic | £12.99 | |
Sorry, Our Fatal Magic is out of stock.
Description
Our Fatal Magic
Our Fatal Magic
by Tai Shani
Introduction by Bridget Crone
Paperback
200pp
£12.99


Our Fatal Magic is a collection of feminist science fiction vignettes by contemporary artist Tai Shani.

Foregrounding explorations of sensation, experience, and interiority, these twelve fantastical prose pieces – drawn from Shani's epic DC:Semiramis project – refract their ideas through a series of curious characters, from Medieval Mystics to Cubes of Flesh, Sirens to Neanderthal Hermaphrodites.

Drawing on the speculative narrative strategies pioneered by writers like Marge Piercy, Octavia Butler and others, Our Fatal Magic metabolises new and necessary fictions from feminist and queer theory to propose an erotic and often violent space of critique in which gender constructs are destabilised, alternative histories imagined, and post-patriarchal futures proposed.

With an introduction by Bridget Crone.
Reviews
'Tai Shani's writing is both oracular and forensic. We each know the power of the first cut and in Our Fatal Magic the cut becomes a sybil, answering each riddle by posing another.
Mesmeric and enlightening.'
- Linder Sterling
'Bonding the mythological and the poetic with the piercingly contemporary that is, inevitably, a painfully acute register of the lived traumas of gender, racialization, age and diverse embodiment in a society defined by hierarchy and exclusion, Our Fatal Magic takes its unique place in a genealogy of brilliant fictional worlds created by women as testimonies and challenges to the world they have to endure. Tai Shani has reached deep into the dark powers of gothic literature and science fiction to trace an imaginative, polyvocal and visually sumptuous journey that often defies reason. It is exhilarating to encounter a work of such originality, ambition, depth, humour, eroticism, wit and pathos.'
- Griselda Pollock