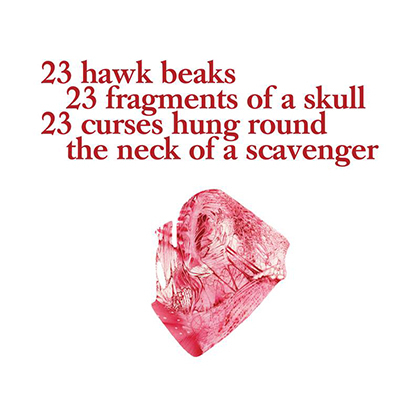 The 23 Stab Wounds of Julius Caesar
| Format | Price | Buy |
| --- | --- | --- |
| The 23 Stab Wounds of Julius Caesar | £30.00 | |
Description
The 23 Stab Wounds of Julius Caesar
Artworks by Ian Johnstone, with a text by Geoff Cox and an afterword by Serena Korda.

• Includes a 40 minute cassette of music composed for the original exhibition at the Horse Hospital by Daniel O'Sullivan (Ulver, Mothlite, Grumbling Fur).

Archival quality, large format, collectors' hardback
240mm x 240mm, 72pp.
Full colour throughout.
£40.00 + p&P

300 copies only.

A series of 23 drawings by Ian Johnstone, in red ball point pen on melamine, originally exhibited at London's Horse Hospital in November 2010. The drawings celebrate individual blood consciousness, the in-between and the constant state of becoming .

They appear on blocks of unguessable purpose : pin-veined rough-cut blocks of whitewood. Displayed in the clutch of the screw's harsh thrift. The cloth is pulled away.The 23 wounds.
Sphagia.
Extispicy.Blood spidered and baked on fissured rocks. Lassos and bones and a tracework of bones. Flesh bared and pared and spindled open through a million pin pricks. Tiny and vertiginous, their lines cluster and tear themselves into liquid fold and tiny blots. The eye swoops like a raptor, bedazzled. Swims unfocused by infinitesimal mysteries. Tricked, beguiled, left rotting.Impossible amulets23 broken hawk beaks
23 rotted talons with their fringe of ant trail
23 fragments of a skull
23 curses hung round the neck of a scavenger wolf
23 bell shards tolled for the ghost of a headless ram
23 mourning scarves of ink-clotted lace
23 eggshells sticky with seed
Interred in the shadow of the tower of silence, beneath bird wing' storm and acid hail, the fruiting body hardens.

Takes shape.

Plus

Musick For Ark Todd
By Daniel O'Sullivan

A: The Levitating Moon Piece
B: Black Egg / Orpheus

"I wrote several pieces of music for Ian's 'Ark Todd' static levitation performance over the years. Each setting provoked a different approach. The collaboration with Ulver at the Norwegian Opera house in Oslo was well documented but this particular version, composed for the exhibition of his Stab Wounds at the Horse Hospital gallery in Bloomsbury, has been resting dormant until now.

The second piece was a commission for The Place theatre, also in Bloomsbury. An unfinished piece of choreography with dancer and vocalist Francois Testory. Like all of Ian's work, this was a singular vision probing the human condition and meticulously scratching for truth under every surface."

About Ian Johnstone
Ian was a long time friend of Strange Attractor and we were working with him on this book when he died unexpectedly in 2015.

'Ian was artist of unimaginable talent and vision, articulated in his singular and exquisite aesthetic which was manifest in all he touched… he was charismatically irreverent, compelling to watch and to listen to and bottomlessly soulful.' (The Horse Hospital).

As well as his own incredible work in sculpture, drawing, painting and performance, Ian collaborated on designs, costumes and performances with musicians including Coil, Daniel O'Sullivan, James B Hollands, Mothlite Francois Testory and Ulver.


Reviews
"This is a rare document of blood voiced signatures; weeping guilt details of all our conspiracies. Snatch it up. Let the words' knifings and the split Biro capillaries own you. But never lend it out, or pocket it close to your heart, it's too unforgiving."
Brian Catling, author of The Vorrh