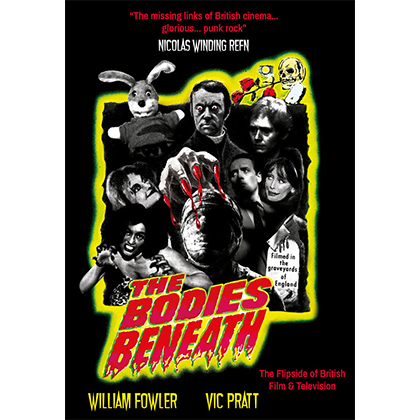 The Bodies Beneath
| Format | Price | Buy |
| --- | --- | --- |
| The Bodies Beneath | £15.99 | |
Description
The Bodies Beneath
The Flipside of British Film and Television
by William Fowler and Vic Pratt
Foreword by Nicolas Winding Refn
Paperback
£15.99
148 x 210
400pp
ISBN: 9781907222726
Release Date: 14/05/19


JOIN US ON THE FLIPSIDE...

Some cinematic paths lie neat and well-tended, others are ominously overgrown and ignored. Dig down deep to and the bodies beneath...

Occult rites are staged in hippie strip clubs; music hall dame Old Mother Riley haunts a vampiric Bela Lugosi; TV puppet Sooty doles out intoxicating pharmaceuticals; velvet-voiced Vincent Price presents a full-fat cookery programme...

Veteran film curators William Fowler and Vic Pratt crack open the caskets of forgotten or neglected British films and telly to serve up a feast of curiosities to tempt the palate of even the most jaded cinephile. Their unflinching, all- embracing investigative gaze is as likely to reassess an established classic as it is to focus on cobweb-covered delights like pioneering 1930s female film director Mary Field's beautifully bizarre The Mystery of Marriage, the much- maligned Doctor Who epic 'The Trial of a Time Lord', underground offerings like Anna Ambrose's experimental art piece Phoelix and Andy Milligan's bawdy bloodbath The Body Beneath.

All is grist to this monstrous mill, as the authors tamper with outmoded video formats and meddle with magenta-bias safety film in their mission to finger- paint an entirely unexpected, highly irreverent and thoroughly personal picture of film and television culture in twentieth-century Britain.



Reviews
"The missing links of british cinema...glorious...punk rock" - Nicolas Winding Refn