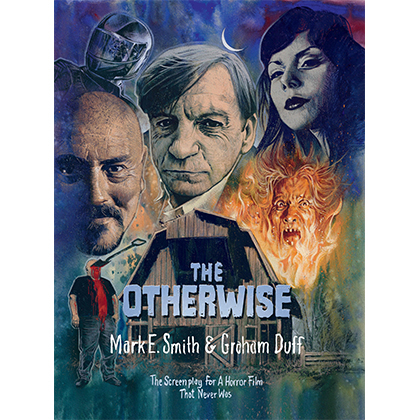 The Otherwise
| Format | Price | Buy |
| --- | --- | --- |
| The Otherwise Hardback Special Edition, with: The Future is Here to Stay + Postcard Set | £35.00 | |
| The Otherwise Paperback Edition | £17.99 | |
Description
The Otherwise
The Otherwise
The Screenplay For A Horror Film That Never Was
By Mark E. Smith & Graham Duff
304pp b/w
Illustrated throughout
210mm x 148mm
ISBN: 9781913689186

Hardback Special Edition (including The Future's Here to Stay: The Singles of the Fall, a 128 page book by Graham Duff, featuring interviews with former Fall members, and a set of 2 postcards...) signed by Graham Duff: £35.00

Paperback Edition: £17.99

"Read The Otherwise and shed a tear for one of
cinema's great, long-lost screenplays."

- Ben Wheatley

In 2015, Mark E. Smith of legendary post-punk group The Fall and screenwriter Graham Duff co-wrote the script for a horror feature film entitled The Otherwise. 

The Fall are recording an EP in an isolated recording studio on Pendle Hill. The surrounding Lancashire landscape is at the mercy of a Satanic biker gang, and haunted by Scottish clansmen who have slipped through time from the Jacobite Rebellion of 1745. 

Every film production company they showed it to said it was "too weird" to ever be made. Yes, The Otherwise is weird. It's also witty, shocking, and genuinely scary. Now the screenplay is published for the first time, alongside handwritten notes and previously unpublished photographs by Jim Moir and Smith's widow and Fall keyboardist Elena Poulou. 

Also within are essays by Duff and Poulou, and transcripts of conversations between Smith and Duff, in which they discuss creativity, dreams, musical loves (from Can to acid house) and favourite films (from Britannia Hospital to White Heat).


The Future's Here to Stay: The Singles of the Fall
by Graham Duff

With Manchester's visionary frontman Mark E. Smith as their one constant, The Fall were the most individual and influential group of their era. From post punk angularity to mutant rockabilly and machine-driven garage rock, via slanted Northern pop, The Fall were one of Britain's last great singles bands.  

As well as their own unmistakable songs, The Fall's single discography also takes in a panoramic range of cover versions, including the psychedelia of The Move, the northern soul of R. Dean Taylor, the country rock of George Jones, the quintessential Englishness of The Kinks and William Blake's 'Jerusalem'.   

Covering a diverse and thrilling run of over 50 releases between 1978 and 2016, Graham Duff has interviewed key members of The Fall, including Marc Riley, Elena Poulou, Simon Wolstencroft, Keiron Melling, Una Baines, Tim Presley and Paul Hanley.