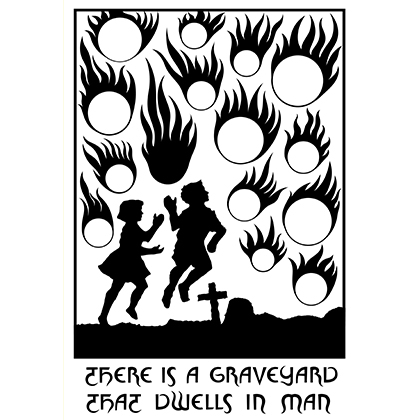 There Is A Graveyard That Dwells In Man
| Format | Price | Buy |
| --- | --- | --- |
| There Is A Graveyard... Hardback Special Edition + A College Mystery | £40.00 | |
| There Is A Graveyard... Standard Paperback Edition | £17.99 | |
Sorry, There Is A Graveyard That Dwells In Man is out of stock.
Description
There Is A Graveyard That Dwells In Man
There Is A Graveyard That Dwells In Man
Edited by David Tibet
Signed HB £40 / Trade PB £17.99
440pp
148mm x 210mm
ISBN: 9781907222610

Available in two editions:

-- A signed clothbound hardback special edition of There Is A Graveyard… will be available to purchase for £40.00 directly from Strange Attractor Press. Featuring a distinctive cover print and original endpapers by David Tibet, this beautifully bound book - limited to 500 copies - will ship with a separate paperback volume of A.P. Baker's supernatural novella A College Mystery (1918) with covers designed by David Tibet.

-- A mass market paperback edition of the collection, replete with french flaps, will also be available to purchase through Strange Attractor Press, MIT Press, and all good bookshops for the price of £17.99.


An arcane compendium of strange fiction and hallucinatory tales, There Is a Graveyard That Dwells in Man collects chilling stories by renowned innovators of the weird and by many little-known and underrepresented or forgotten scribes of the macabre.

Selected by artist, writer, and musician David Tibet, this widely-sourced collection of supernatural rarities continues the bibliographic exhumation initiated with The Moons At Your Door (Strange Attractor Press, 2016), offering lyrical portals into worlds of strange beauty, elegant unease, and creeping decadence.

Authors include HR Wakefield, HD Everett, LA Lewis, AC Benson, Thomas Ligotti, Lady Dilke, Arthur Machen, Collette De Curzon, Nugent Barker, Edna W. Underwood, EF Benson, Oliver Onions, AM Burrage, John Gower, Algernon Blackwood, Amyas Northcote, LP Hartley, Edith Wharton, RH Benson, Charlotte Perkins Gilman, Richard Middleton and Walter De La Mare

The volume also includes a new introductory essay by David Tibet, incorporating original translations from the Akkadian. Comprehensive biographical and publication histories are provided by noted scholar of bibliographic arcana Mark Valentine.

There Is a Graveyard That Dwells in Man offers an unnerving, serpentine tributary to the canon of supernatural literature.